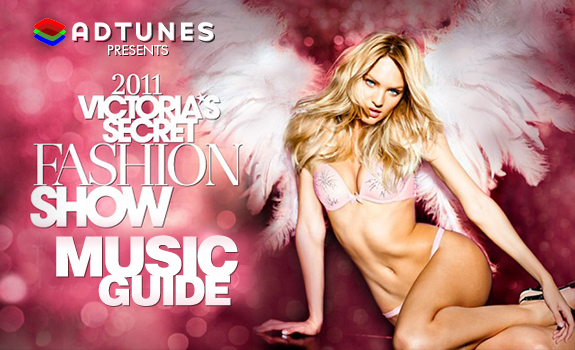 The
2011 Victoria's Secret Fashion Show
on
CBS
featured music performances by Kayne West, Jay-Z, Nicki Minaj, and Maroon 5.
The six runway segments,
Ballet
,
Super Angels
,
Passion
,
Angels Aquatic
,
I Put a Spell On You
, and
Club Pink
featured a record number of models and looks in the show. The annual Victoria's Secret special costs
$12 million to produce and is seen in over 180 countries
.
Kayne West performed his hit
"Stronger"
. He was supposed to sing the song in the 2007 Victoria's Secret Show, but had to drop out due to the death of his mother. He was then joined on stage by surprise guest Jay-Z for their song
"Niggas in Paris"
. In a later segment Maroon 5 played their current hit
"Moves Like Jagger"
. (You can watch the Victoria's Secret models lip sync that song in this
Victoria's Secret YouTube video
.) Speaking of Maroon 5 and Victoria's Secret models, lead singer Adam Levine serenaded model (and girlfriend) Anne Vyalitsina during her appearance in the show. Last to perform was Nicki Minaj with her single
"Super Bass"
during the show's final "Pink" segment.
Here is the list of music used in the
2011 Victoria's Secret Fashion Show
:
BALLET segment
Make Me Wanna Die
by The Pretty Reckless
Download from
Amazon
iTunes
SUPER ANGELS segment
PASSION segment
California King Bed
by Rihanna
Download from
Amazon
iTunes
ANGELS AQUATIC segment
Moves Like Jagger
(Performance)
by Maroon 5
Download from
Amazon
iTunes
Niggas in Paris
"Homies in Paris" (Performance) by Kayne West & Jay-Z
Download from
Amazon
iTunes
I PUT A SPELL ON YOU segment
CLUB PINK segment
Super Bass
(Performance)
by Nicki Minaj
Download from
Amazon
iTunes
Born this Way
by Lady Gaga
Download from
Amazon
iTunes